Back

STUNT KITES

REVOLUTION Parts & Accessories

Start your Quad adventure

AMAZING POWER MACHINE

REVS

REVS

Rev Kites

Revolution kites

Have a look on

This freestyle kite impresses...

To the Invento range, the...

Have also a look

The Maestro III may look...

2- line stunt kites

POWER KITES

Hot

HQ Highlights

Crosskites

+

KITESURF

Highlights

Feel like you can do anything...

TOPAZ Are you looking for a...

BUGGIES AND LANDBOARDS

Highlights

The Peter Lynn Rally replaces...

The Peter Lynn Drifter replaces...

+

The Kheo Core is an entry level...

Accessories

OTHER PRODUCTS

CAN'T FIND WHAT YOU ARE LOOKING FOR?

We have everything for kiting. If you dont find what you you need please contact us.
If you are a professional customer, please contact us for volume discounts.

Highlights

Peter Lynn Freestyle handles have...

+

The Skywatch® BL400 accurately...

+

Set of 2 Peter Lynn padded straps...

KNOWLEDGE BASE

NEW

HQ Kites Comparision


All HQ Sport Kites in one table - just to make the comparison easier 

HQ kites

Lark's Head Knot

With the lark's head knot, you can easily attach your flying line to the bridle of your kite.

   

Beaufort wind table


The Beaufort scale was long in use as a system for estimating wind speeds. It was introduced in 1805 by Admiral Sir Francis Beaufort (1774-1857) of the British navy to describe wind effects on a fully rigged man-of-war sailing vessel, and it was later extended to include descriptions of effects on land features as well.

| Bft | Sourroundings | Wind | Knots | km/h | mph | m/s |
| --- | --- | --- | --- | --- | --- | --- |
| 0 | Smoke rises vertically and the see is mirror smooth | calm | 0 | 0 | 0 | 0 |
| 1 | Smokes moves slightly with breeze and shows direction of wind | light air | 1-3 | 1-5 | 1-3 | <2 |
| 2 | You can feel wind on your face and hear the leaves start to rustle | light breeze | 4-6 | 6-11 | 4-7 | 2-3 |
| 3 | Smoke will move horizontally and small branches start to sway. Wind extends a light flag | gentle breeze | 7-10 | 12-19 | 8-12 | 4-5 |
| 4 | Loose dust or sand on the ground will move and larger branches will sway, loose paper blows around, and fairly frequent whitecaps occur | moderate breeze | 11-16 | 20-28 | 13-18 | 6-7 |
| 5 | Surface waves form on water and small trees sway | fresh breeze | 17-21 | 29-38 | 19-24 | 8-10 |
| 6 | Trees begin to bend with the force of the wind and causes whistling in telephone wires and some spray on the sea surface | strong breeze | 22-27 | 39-49 | 25-31 | 11-13 |
| 7 | large trees sway | moderate gale | 28-33 | 50-61 | 32-38 | 14-16 |
| 8 | twigs break from trees, and long streaks of foam appear on the ocean | fresh gale | 34-40 | 62-74 | 39-46 | 17-20 |
| 9 | branches break from trees | strong gale | 41-47 | 75-88 | 47-55 | 21-24 |
| 10 | weak trees are uprooted, and the sea takes on a white appearance | whole galem | 48-55 | 89-102 | 56-64 | 25-28 |
| 11 | widespread damage | storm | 56-63 | 103-117 | 65-73 | 29-32 |
| 12 | structural damage on land and storm waves at sea | hurricane | >46 | >118 | >74 | >33 |

How to choose your kiteline

HOW TO CHOOSE YOUR KITELINE

HOW TO CHOOSE YOUR KITELINE

Different kiting disciplines require different types of lines, below you can see an overview on which lines are recommend for each discipline.

| kite discipline | Top line strength | Brake line strenght |
| --- | --- | --- |
| sport/trick flying | 25 - 110Kg | - |
| powerkiting | 170 - 210Kg | 75 -110Kg |
| kite buggying | 170 - 300Kg | 75 - 110Kg |
| landboarding/snowkiting | 300 - 375Kg | 300 - 375Kg |
| kiteboarding | 300 - 500Kg | 300 - 375Kg |


Line Strenght 

Which line strength you should use depends on a number of factors. Ideally one would use multiple line-sets for the same kite for different wind speeds to get the best possible performance. You can imagine that a 2m 4-line foilkite flies great in 20 knots on 200kg steering lines, but fly that same kite with the same lines in 10 knots and you will notice that the lines sag, making steering less responsive.

Even pilot skill and riding style comes in to play when we look at buggy racers, smooth technical racers will use 200 to 250kg steering lines where heavier and/or more aggressive racers will use 300kg lines or even stronger.

Generally high winds and/or heavier pilots require stronger lines. 

Line lenght

Line lenght is very much preferential, the rule of thumb is: Shorter lines make steering more direct with the sacrifice of low end performance and long lines give the kite a better low end at the sacrifice of kite responsiveness.

Considerations 

Dyneema® is without a doubt the best possible line to use for kiting, however there are a few things to look out for when using Dyneema® lines;

Knots - Dyneema® handles knots poorly, this is why the lines have sleeves at the ends where the knots are, the sleeves are there to protect the line itself.

As an example: put a knot in a 200kg line and you will cut its breaking strength in half and under tension the line will break right at the knot.

Melting - In comparison to other kite flying lines such as Nylon, Dacron or Aramid/Kevlar, Dyneema's melting point/temperature is lower so if you ever tangle your 4-line powerkite with a single line kids kite (which are generally flown on Nylon lines) chances are you'll lose.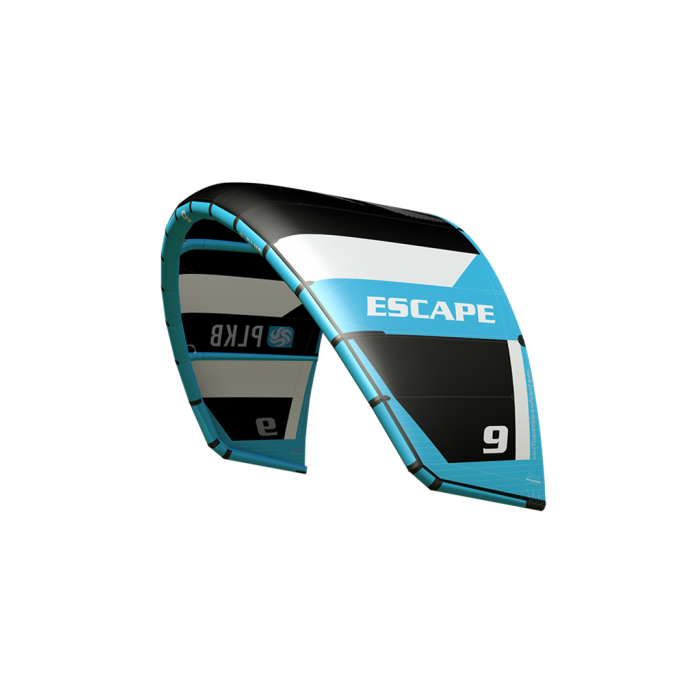  
Peter Lynn ESCAPE V8 | kiteboarding | Kitesurfing

Feel like you can do anything with the new Escape V8.

Whether you want to go fast, boost big or practice every trick in the book, the V8 will act like an extension of your body, completing your moves and adapting to your needs.

The winning and distinctive features of the Escape have been kept: intuitive and direct handling, super responsive feeling and no compromise on power. With the improvements on the canopy the V8's performance stands out big!

Includes: kite, manual and backpack (no pump, bar and lines).
Secure payments
24h shipping
Warehouses in NL/DE/PT
Customer satisfaction policies
FREESTYLE | FREERIDE
The V8's Laser Tech canopy is smoother and prevents creases from interrupting the airflow, which makes the kite more efficient, even in gusty conditions. With a smoother kite, the handling on the Escape V8 upgraded significantly and completes any kiter's riding style. The Laser Tech, in combination with a higher angled profile, makes for a more stable and explosive kite: whatever you want to do the V8 will keep going strong! Throw the most radical moves, boost insane kiteloops or progress through tricks: the V8 enables any rider to boost their confidence!
TECH SPECS
Triflow
Triangular panels to improve air flow
TRIFLOW
If you look closely at the canopy on the leading edge, you will see multiple triangular shaped panels. These are called TriFlow and create a smooth and clean transition between the panels. By using this technology, the canopy segments attached to the Leading edge are now able to curve both vertically and horizontally, limiting all creases from happening on the canopy closer to the leading edge.
TriFlow creates an extremely smooth surface and clean airflow over the canopy, resulting in more stability and a better overall performance of the kite. TriFlow makes the Escape even more stable so that you can focus on jumping and boosting and riding to the max.


Laser Tech
Maximum precision for maximum performance


LASER TECH
Because the canopy is being cut using computer controlled lasers, the profile of the Escape V8 has become super smooth, limiting all wrinkles from forming in the canopy. This makes the kite more efficient and improves the Escape's flight characteristics. The V8's flight behaviour has also become more stable, direct and responsive than before.

The V8's flight characteristics have become more efficient. Also thanks to the tighter trailing edge the kite has become more stable, direct and responsive, especially in gusty and strong wind conditions. The Escape V8 maintains its shape which significantly improves its boosting and big air capabilities.
4-Strut Design
Clean middle section to boost bigger


4-STRUT DESIGN
The eighth generation Escape remains distinctive because of its 4-strut design. By leaving the kite's large middle section free from struts, the Escape is provided with even more grunt and boost that gives you all the power you need to throw even the most radical moves.
Open-C Shape
Open C design to pop harder and float longer
OPEN-C SHAPE
The open C-kite shape is great to help you generate all the speed you need to jump high, change direction quickly and do tricks in the air. The kite's wide middle section and deep profile increase the float, keeping you up there during your big air tricks and megaloops, and still provides solid upwind to keep the rider in the competition box or close to the beer cooler.
Short pulley-less bridle

SHORT PULLEY-LESS BRIDLE
Solid bar feel and direct kite feedback are necessary to ensure maximum control no matter the conditions. Especially if your trick of choice is a megaloop or handle-pass, precise control makes the difference between landing a trick or crashing. All the power generated by the Escape V8 is kept in close control by a short, pulley-less bridle that make the kite responsive and makes it react very precisely to your commands.
Adjustable bar pressure
Change back bridle attachment points to suit your personal preferred bar feel
ADJUSTABLE BAR PRESSURE
Most PLKB kites come with adjustable back line settings to adjust the bar feel of the kite. Moving the bridle attachment point back towards the trailing edge will make the steering pressure lighter but will require more movement of the bar. Changing the settings is super easy, just detach the back bridle line and reattach it to your preferred setting to have more or less bar pressure and steering movement. This is a personal decision based on your riding style and experience.
Adjustable pigtail position
For your preferred settings or for caretaking


ADJUSTABLE PIGTAIL POSITION
By moving the pigtail over the back bridle lines away from the kite, you can compensate for front line stretching. Or, by moving the pigtail over the back bridle lines towards the kite, you can compensate for a not responsive kite. This is why our kites are equipped with 4 pre-set attachment points on the back bridle lines. This will make sure you always have the same feeling even when the kite gets older.
Fit all valve
FIT ALL VALVE
Our kites are equipped with a 'fit-all-valve' for easy inflation. The bayonet fitting fits all pumps and the large valve opening makes inflation a breeze. You won't have to spend hours and hours looking for a pump with the right connection, and will be out on the water in no time.
Double stitched Leading Edge
Extra smooth, extra stiff Leading Edge


DOUBLE STITCHED

LEADING EDGE
Multiple reinforcements improve durability. The leading edge and struts are built with the most durable Dacron. The entire span of the leading edge has been reinforced along the seam with double stitches to protect it from getting damaged when crashing or getting a pounding by waves, making it hands down one of the toughest kites on the market. All the bridle attachment points are reinforced with Dacron patches that are stitched on the inside of the leading edge so, even if all the power is channelled through one bridle point, the kite will not get damaged.



SIZE RANGE
For more information visit the manufacturer product page:
https://www.peterlynnkiteboarding.com/peter-lynn-escape-v8
Feel like you can do anything with the new Escape V8.

Whether you want to go fast, boost big or practice every trick in the book, the V8 will act like an extension of your body, completing your moves and adapting to your needs.

The winning and distinctive features of the Escape have been kept: intuitive and direct handling, super responsive feeling and no compromise on power. With the improvements on the canopy the V8's performance stands out big!

Includes: kite, manual and backpack (no pump, bar and lines).